Building services maintenance: total service and parts support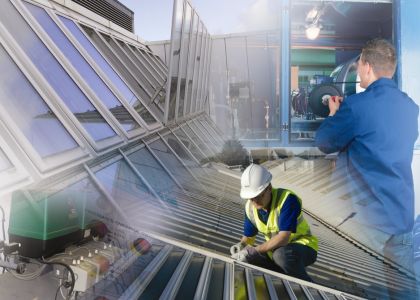 We offer mechanical and electrical, preventative and reactive service, maintenance and repair for a wide variety of building services equipment, whether or not this has been supplied by Colt. Our main specialism is smoke control and fire protection systems and their associated controls and ancillaries.
What services we offer
Service means providing you with a tailored maintenance regime to ensure optimum product performance, whilst ensuring that legislative obligations are met. In the event of equipment malfunction, service means a fast and efficient call-out and repair process.
Colt offers a range of services which may be tailored to meet your exact requirements:
Programmed preventative maintenance. We will work to ensure that your equipment is in optimum running order. For customers with a maintenance contract an emergency helpdesk is available with an out of hours call out facility, which is manned 24 hours, 365 days a year. A test certificate will be issued for smoke control systems.
24/7 emergency call-out.
Repair and refurbishment of existing systems regardless of who is the manufacturer.
Advice on regulatory compliance and certification for smoke control systems.
Environmental surveys to assist you to reduce your energy costs and carbon footprint.
Design support to you to optimize the performance of your installed equipment, should alterations to the building fabric or function be necessary.
In all cases both labour and parts are covered for 12 months unless otherwise agreed.